Bulletin 12 from Michael Edwards, Managing Director
Index
1. Introduction 
2. Refund payment cycles
a. Flights GDS
b. Aviate Flights BSPLink
c. Lime Groups
d. Aviate Groups
3. We Are With You initiatives
a. Ticket Protection Scheme
b. Direct Debit Payment Scheme
c. Early ticketing alert
d. Airline Covid policy comparison chart

4. Airline partner updates
a. British Airways
b. Virgin Atlantic
c. Thai Airways
1. Introduction 
We recognize this crisis continues to sorely impact the travel industry and therefore, we will remain focused on dealing with the on-going
actions and new repercussions in support of you. We know this is important and will continue to provide focussed service, for as long as it
takes, to remain your favoured partner.
Throughout, I along with many of our managers and the team, have been speaking to you to listen and understand your needs. Over
recent weeks, the conversations have begun to turn toward the future… and what next… and what the Travel Innovation Group can
additionally do to be supportive. Our plan, under our new campaign – We Are With You – is to establish many new initiatives that, having
listened, are designed to ensure we continue to innovate and be the best flight provider for your business. We Are With You needs to be a
constantly evolving plan, with new building blocks added, as circumstances dictate and new matters unfold.
At this time, I can confirm We Are With You includes initiatives such as a new and market leading Ticket Protection Scheme (so your
payments for ticketed flights are protected should an airline failure occur), re-introducing our Direct Debit payment scheme (with better combined credit and daily transactions), new system functionality to help with re-booking using the airlines' Exchange Travel Credits, an informative Airline Covid Policy Comparison chart (so you can readily identify airlines which offer flexibility for new bookings), new system
functionality to help manage your ticketing and protect your cashflow and a published Crisis Management Response Plan (so you can be
confident we are 'prepared and able' and promise to handle any future crisis in the best manner for you). Plus many more…
To keep you fully informed we will be communicating our We Are With You plans widely via our websites and eshots. As of this week our
Partnerships team have all returned to the office and will be contacting you in the coming days and weeks to reconnect and brief you further on our plans. There are more details, below in this Bulletin, however please watch out for our communications and of course do not hesitate to contact the Partnerships team via partnerships@travelinnovationgroup.com with any queries – or indeed new ideas we can
support you with!
It is important you have the confidence that we are secure for the future too. As a group of companies under the Travel Innovation Group
brand, including Lime and Aviate, we have always managed our finances carefully. We have grown our income every year since our
inception in 2003. We have traditionally retained significant funds ensuring our reserves were maintained at strong levels. Therefore, with
very healthy finances, we have been able to weather the financial consequences of the Covid 19 impact. However, to ensure our financial stability for the future we engaged Hurst, Corporate Finance Advisors. In their review, Hurst have concluded we "…..have responded very well to the coronavirus crisis" and have advised us on our financial planning for the future. To protect the business going forward and to
re-establish our available financial resources, as a team including Hurst, our bank, our shareholders and our management we have gained additional financial security and adjusted the organization to a lower cost base.
We also need to continue to deliver for you. I, as Managing Director, and one of the founder shareholders, will continue to lead the business on behalf of all the shareholders. All the senior management team have been with the business for over 10 years, aside from our 'new' Chief Technology Officer (who joined over 2 years ago) and we have many staff who have also passed the 10 years' service milestone. This means together we have many years' experience and know our customers well. Our values and culture are at the core of what we do – our Compass. We are as determined as ever to deliver Legendary Service combining our values, our expertise, our system and technology capabilities - and our innovation.
2. Refund Payment Cycles 
a. Lime and Aviate Flights GDS 
We've now completed on schedule our eighth cycle of Flights (ITX/Seat Only/Published/Cruise) refunds via GDS as per
the schedule below.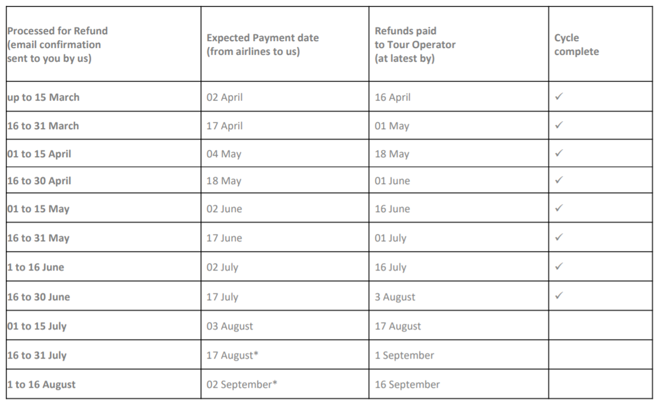 *We will need these clear funds from IATA/the airlines before processing your Refunds to you. Refunds will be made back to the
original form of payment.
b. Aviate Flights via BSPlink
Several airlines continue diverting all refunds through BSPLink which, unfortunately, adds a significant delays into the
system and takes much longer than we would like. This table represents some of our higher volume airlines who are
insisting on manually managing refunds via BSPLink and payment timescales are an estimate.

We are pleased to note over the last few weeks, that some key airlines have re-opened their GDS for refunding. We have
therefore promptly re-processed any pending refunds with these airlines, which mean the majority will be repaid to you within
the timeframes listed below (that coincide with our Flights GDS refund payments cycles as per section 2.a)
i. AirFrance/KLM - expected refund paid to tour operator: 17 August
ii. Turkish Airlines - expected refund paid to tour operator: 1 September
iii. Lufthansa Group (Austrian Airlines, Lufthansa and SWISS) - expected refund paid to tour operator: 16 September
iv. Emirates - expected refund paid to tour operator: 16 September
Please note with the above situation there are occasional refunds that, for unspecified reasons fail through the GDS refund
process. We report these immediately to the relevant airline and will follow-up in order to process the particular
payment. Therefore there will be odd refunds that may be delayed beyond these dates stated. The good news is the vast
majority are being processed now without hitch.
c. Lime British Airways Groups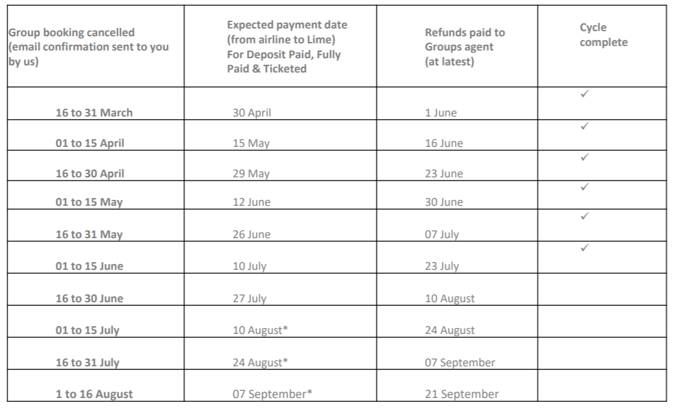 *We will need these clear funds from IATA/the airlines before processing your Refunds to you. Refunds will be made back to the
original form of payment
d. Aviate Airline Groups
*We will need these clear funds from IATA/the airlines before processing your Refunds to you. Refunds will be made back to the
original form of payment.
3. We are with you 
As mentioned in my introduction, we are determined to continue to deliver Legendary Service and tailored solutions in
support of you now and as we look toward the future. As part of our planning, we don't want you to forget that We
Are With You, and we have initiatives in the pipeline that continue to raise the bar and showcase our values of
innovation, trust and value - as the flights supplier of choice for independent and specialist UK Tour Operators and
Group organisers.

a. Ticket Protection Scheme
This will be launched 25 August for any new tickets from that date. The Scheme will provide refund cover for ticketed bookings as well as cover for Repatriation and Curtailment. We will communicate the information with more detail from next week and are recommending your participation. However, should you wish not to then we will opt you out of the scheme. More information to follow next week.

b. Direct Debit Payment Scheme
For those of our Flights account holders who used our direct debit facility previously, I'm pleased to confirm on week commencing 25 August we will be re-introducing direct debits to make payments easier. Previous users of the direct debit system on Lime, Aviate or Virgin Atlantic Flightstore will see a combined credit allowance available across all of the systems. The new-look allowance will be refreshed daily (previously twice weekly) and will result in a simpler way to manage your ticketing and an increased weekly credit total as a result.

c. Early ticketing alert
To encourage optimal flexibility of your bookings, we are introducing a new alert across our Flights systems which is triggered when ticketing earlier than 14 days from the ticketing deadline (TTL). Ticketing early is not advised, unless for good commercial reasons such as seating, fare locking on some airlines, etc.. This alert prompts you to reconsider when you ticket.

d. Airline Covid policy comparison chart
A reminder that our websites (Lime and Aviate) feature summaries of respective airline disruption policies, as well as links to the complete policy. The summaries whilst proving helpful at the time of disruption, will be an aide as you begin creating more new bookings, whereby you and your client want the most flexibility.
We have summarised disruption policies across our 10 highest volume carriers overleaf, including in the event of ongoing or a future Covid disruption scenario whether they currently refund to us via GDS (which is the faster method) or BSPlink (that can take much more time)….
…Airline Covid policy comparison chart continued:
4. Key Airline News 
a. British Airways new route and increased services
As British Airways services recommence, Lime's website contains a clear visual of the destinations (by airport code) that
BA are flying to, plus further sources to check weekly frequencies and safety while travelling information. Full
information here 

b. Virgin Atlantic status
Virgin Atlantic has moved into the next phase of its recapitalization programme with court filings in both the UK & US.
The Chapter 15 filing in the US is a procedural application to allow the US courts to recognise the restructuring process. The next key date is 25 August when creditors will sign off the 5 year business plan, which already has the support of the Virgin Group, Delta Air Lines, and US hedge funds, and includes a refinancing package worth £1.2bn over the next 18 months.
All bookings and tickets continue to be valid and are unaffected by this process. Indeed the airline continues to reinstate its flying programme with services recommencing to New York, Los Angeles, Barbados and Hong Kong.
We will keep you updated on all developments over the coming weeks.

c. Thai Airways remove ITX and Seat Only fare content
Due to their ongoing restructure THAI have withdrawn all their existing Nett Fares, including IT and Seat Only content from the UK market.
All partners will still be able to book THAI at revised Published Fare levels through the Aviate system, which
are available from 06AUG20.
THAI will honour existing ITX and Seat Only ticketed bookings - including disruption rebookings relating to
Coronavirus - which will be priced as per the backdated ITX or Seat Only fares.
Don't forget to provide your customers with the gov.uk link containing information and a mandatory form for completion within 48 hours of their return to the UK:
https://www.gov.uk/provide-journey-contact-details-before-travel-uk
and to check entry requirements of the intended destination before travel commences.