4 Perfect Days in Calabash, Grenada
This family-owned, boutique hotel combines five-star service with all-suite accommodation, culinary delights and the sweetest of island adventures, plus a whole host of complimentary extras.
Day 1: Revel in relaxation
After landing in Grenada, guests enjoy complimentary airport transfers to Calabash and in-suite rum punch and homemade cookies on arrival. With a starting size of 480 square feet, there's ample space in each of the 30 suites, appointed with modern luxuries and private balconies overlooking the Caribbean Sea. Fall asleep to the sound of gentle waves and awake feeling refreshed, ready for a made-to-order breakfast served on the beach or in the privacy of the suite.
Rest and relaxation continues with a chilled cocktail on one of Grenada's best beaches – the tranquil L'Anse aux Epines. Stroll the entire two-mile stretch to get a feeling for your paradisiacal surroundings and make the most of the 'from your beach lounger' menu. At The Spa at Calabash, ingredients are sourced from local artisans to nourish and heal the body. Banish any lingering jetlag with a recovery massage or get a flavour of the land with a soothing cocoa facial.
Day 2: Ease into island life
Thoughtful inclusive extras make Calabash feel like a true home away from home. Start the day with complimentary yoga at the garden pavilion, followed by a feet-in-the-sand beach breakfast. The calm waters of sheltered Prickly Bay are perfect for sampling complimentary non-motorised watersports including snorkelling, clear-bottomed kayaks, and paddle boards. With diverse marine life, guests may be lucky enough to spot stingrays, turtles and seahorses.
After an underwater adventure, tuck into tuna poke nachos and Grenadian king crab over a leisurely lunch at The Beach Club just steps from Prickly Bay. Stay at the beach for a game of boules or retire to the suite in time for a delivery of freshly created canapés. As the sun sets, embark on a sailing trip to soak in the island's silhouette from afar. Some of the most spectacular sunsets take place at Grand Anse Beach, when the sky bursts into a sea of colour, reflected in the water.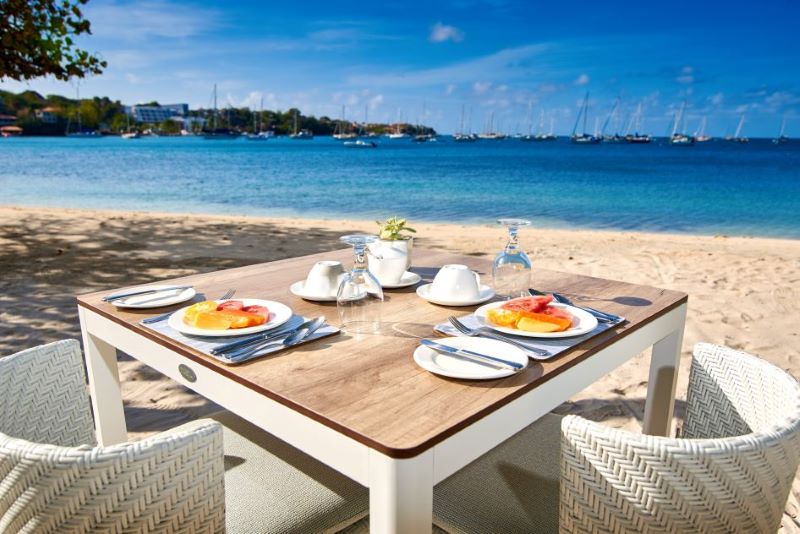 Day 3: Unforgettable dining
As a proud member of Relais & Châteaux, food and beverage is a serious business here. Indulge with everything from buttermilk souffle pancakes to homemade granola parfait during a beautifully presented breakfast. Grab some tips during weekly cooking demonstrations from Executive Chef Ramces at The Beach Club every Friday, and tropical fruit tastings every Sunday morning. Then there's the daily Afternoon Tea, comprising finely cut sandwiches, delectable cakes, and pastries over tea, all included in the room rate.
In the evening, try Calabash's brand-new culinary offering Izakaya, a Japanese restaurant alongside the infinity pool. Enjoy 360 views of the resort alongside bright ingredients and thoughtful creations, including sushi rolls, sashimi and dishes from the raw bar. By selecting the freshest cuts and ingredients available on the island, chefs and mixologists craft original creations to inspire travellers of all kinds.
Day 4: Spice Island adventures
Guests can book island tours through the brand-new Calabash app, or the hotel concierge. From hiking tours to hidden waterfalls, there are plenty of bespoke excursions led by expert tour guides and drivers based around what clients like to explore; be it rum factories, cocoa estates, meeting monkeys at Grand Etang Lake or perhaps exploring the Underwater Sculpture Park. Make it back to Calabash in time for fine dining at the vine-covered Rhodes Restaurant, where fresh ingredients and local flair take centre stage.
If it's a Thursday, we recommend dinner at The Beach Club for Grill and Caribbean Night, where just-caught seafood is accompanied by the sweet sound of steel pan. Relax back in the suite and enjoy a peaceful night's sleep in king-sized beds adorned with the highest quality Egyptian cotton fabrics and mattresses. However long your clients wish to stay at Calabash, there's no doubt they'll return home fully rested and renewed, enchanted by island life.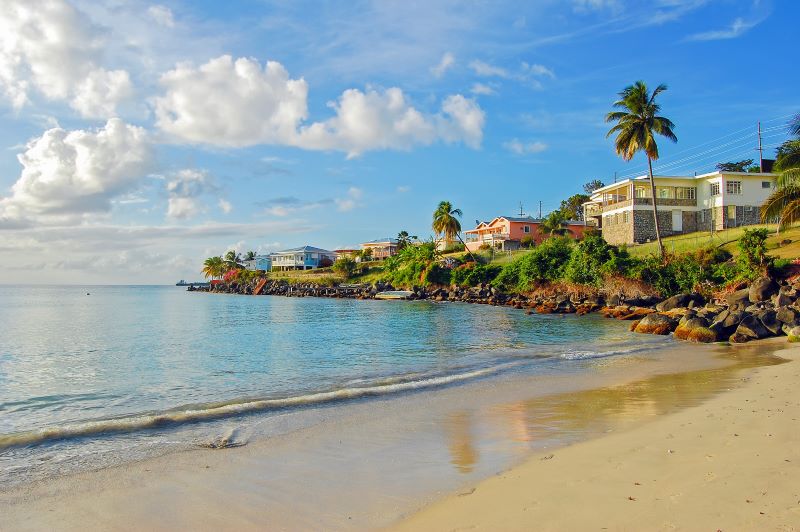 View more of our Caribbean properties here. 
If you're a tour operator and would like to add Calabash to your portfolio, contact Aviate Additions by completing this short form. If you're already a partner and ready to make a booking call Aviate Additions' dedicated team on 0151 350 1140 or email reservations@aviateadditions.com