Do I recommend Thailand?
Thailand in 7 days – a fun-packed week!
Have you ever received a phone call from your manager on a Friday afternoon asking you if you want to take part in the most incredible Fam trip ever?
Well, I have and let me tell you how that went!
It is not every day that you get asked if you want to join EVA Air and Tourism Authority of Thailand in a Fam with the most incredible itinerary, and there was no way I was saying no to that!
It's been three months and not a day goes by where I do not think about it. The itinerary put together by the amazing Betsie at TAT included so many once-in-a-lifetime experiences that I still talk about it now.
Spanning across three beautiful locations, Bangkok, Chiang Mai, and Koh Samui, staying at some of the most incredible hotels I have ever stayed in, The Standard Bangkok, Cross Chiang Mai Riverside, Anantara Chiang Mai, Centara Reserve Samui and Explorar Koh Samui, each place combining luxury with a unique character and individual touches.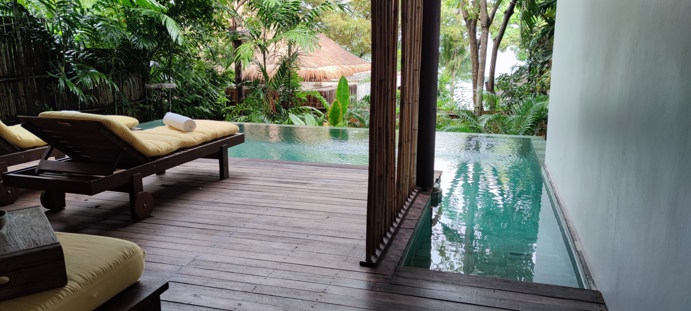 The amazing itinerary included visiting world-renowned spots including Wat Doi Suthep, Doi Inthanon National Park and Royal Project, Elephant Nature Park (I know!), and taking a boat trip visiting some amazing islands, as well as a wellness afternoon at Kamalaya, as a group we were absolutely spoilt on this trip!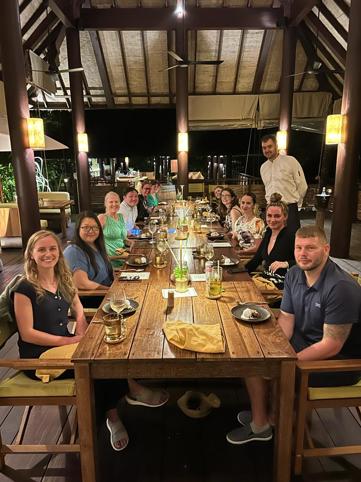 The flights
This trip was organised in partnership with EVA Air and Bangkok Airways, and I cannot fault either. Flying from London Heathrow from a non-Londoner was scary, but Betsie was incredible at putting me at ease and arrived at the airport super early to ensure that I was not there on my own waiting.
Once the whole group joined us and we checked our luggage, we made our way to the Business Class lounge, where we were spoilt for choice with food and drinks. As a group, we started chatting and sharing what we each hoped to get from this trip.
Soon it was time to board the flight and we were lucky enough that EVA Air had arranged for us to have an aircraft tour before the rest of the passengers boarded, it was amazing to see the different cabin classes and learn about the different features each offered.
We were lucky enough to fly in Business Class - Premium Laurel Class for our outbound flight. And what a treat that was! From the moment you sit down, the staff at EVA Air really make it their mission to make you feel like nothing is too much for them, and the little touches provided do certainly go a long way, such as taking your coat and hanging it for you, giving you the option to pick your meals from an incredible menu, catering to your needs, whether you have allergies or intolerances, to providing you with a pyjama you can change into, a mattress and sheet for your fully lie-flat seat to ensure you have a restful night's sleep, and a wake-up service in time for breakfast, truly no detail is missed.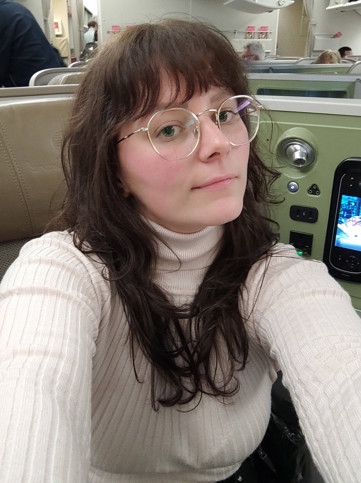 After eating a 3-course dinner suitable for royalty served in chinaware and real cutlery, I was ready to wind down. Changed into my super comfortable EVA Air pj's, teeth brushed (thanks to their luxurious overnight amenity kit) and with a movie selected from their incredible entertainment selection, I was able to get comfortable with their fully adjustable headrests and footrests, and electrically controlled lumbar support.
Soon it was time for me to get a shuteye and going to sleep had never been easier. I chose to accept their morning wake-up call so I could take advantage of their breakfast menu, and I was not disappointed, the breakfast was absolutely delicious, a lot of food again, but so tasty and varied!
Soon it was time to disembark and as we were flying in Premium Laurel Class, we were allowed to disembark first and headed to collect our luggage ready to start our trip.
The attentive service provided throughout our entire experience with EVA Air, from checking in to checking out was second to none, the staff at EVA Air really know how to make each and every passenger feel special and welcomed.
In between destinations, we were lucky to fly Bangkok Airways, from Bangkok to Chiang Mai, Chiang Mai to Koh Samui, and Koh Samui to Bangkok, the flights were always comfortable, the staff attentive, and the meals provided on every flight, were a really nice touch.
On the way back to London we were lucky enough to experience the Premium Economy cabin with EVA Air. EVA Air offers the most spacious Premium Economy class, with 38-inch long and 19.5-inch wide seating space, ample legroom and perfect seat recline. Included in the fare for this cabin, all passengers receive an overnight kit, individual blanket and pillow, slippers, an exciting meal menu to choose from, hundreds of hours' worth of entertainment, USB plugs and 110V AC outlets for laptops.
The service in Premium Economy was incredible and rivalled the service received in Premium Laurel Class, the staff were attentive throughout the flight, checking on each passenger individually and ensuring that we were well looked after.
The food in Premium Economy was delicious (and too much again) and the nice little sweet treats midway through the flight were a really nice touch.
Soon we were back in London and back to the day to day life.
The highlights
The incredible itinerary put together by TAT.

EVA Air Premium Laurel Class.

The amazing hotels we stayed in and visited.

The politeness and friendliness of everyone in Thailand.

Locally produced tamarind and peach ice tea and locally sourced coconut ice cream.

The Elephant Nature Park!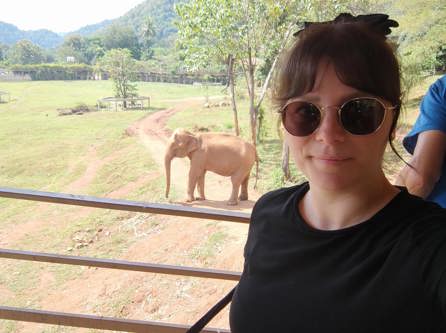 I am so lucky that I have managed to visit an incredible country, tick so many bucket list items, stay at unforgettable hotels, try so many tasty dishes and meet so many amazing people in the process. I can't wait to go back to Thailand!