Oman Air Announces Network Expansion
Dear Partners,
We're pleased to share this exciting new update from our partners at Oman Air:
Continuing its ambitious and dynamic strategy of fleet and network expansion, Oman Air, the national airline of the Sultanate of Oman, has unveiled its summer schedule for 2023. The schedule specifies significant frequency increases on existing routes, and the addition of four destinations - representing a 60% increase in the number of flights from its hub in Muscat compared to the previous year. This will provide the market with approximately 60,000 more seats weekly across its network and provide greater convenience and connectivity for Oman Air guests.
The four additional destinations being introduced for the summer schedule are: four-weekly flights from Muscat to Chittagong (from March end); four-weekly flights from Muscat to Maldives (from June end); twelve-weekly flights from Muscat to Lucknow and five weekly flights between Muscat and Thiruvananthapuram (from August).
Due to popular demand, the new summer schedule will see frequency increases to the following regions: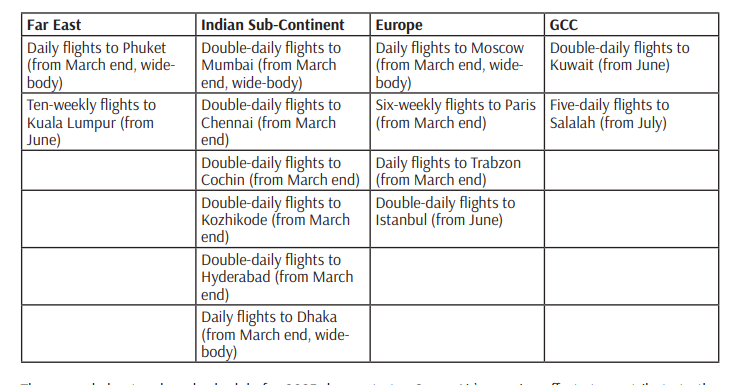 The expanded network and schedule for 2023 demonstrates Oman Air's ongoing efforts to contribute to the economy of the Sultanate of Oman while also exhibiting its drive for increased global reach through its award-winning services and products, along with its signature Omani hospitality both in the air and on the ground.