Stopover in Istanbul with Turkish Airlines
Included in a the Stopover in Istanbul - Complimentary hotel stay
- 1 NIGHT IN A 4 STAR HOTEL FOR ECONOMY CLASS
- 2 NIGHTS IN A 5 STAR HOTEL FOR BUSINESS CLASS
If you have connection time of more than 20 hours between two flights in Istanbul, Stopover free hotel service invites you to explore the city and stay at a premium hotel. Stopovers are valid for the following destinations when flying from United Kingdom: Asia & Far East, Africa, Middle East.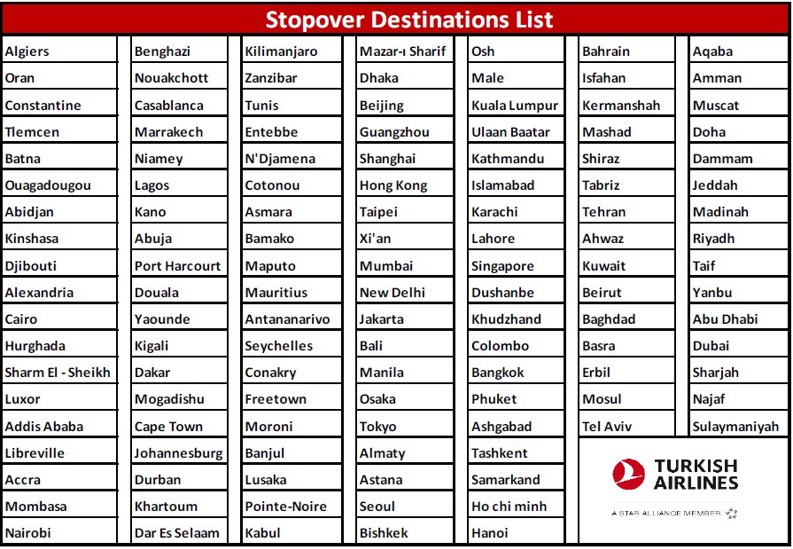 TERMS AND CONDITIONS
Free accommodation is valid when flying from UK to ASIA, AFRICA, MIDDLE EAST and FAR EAST destinations.
Free accommodation is only available for passengers transferring via Istanbul Airport (IST) or Sabiha Gokcen Airport (SAW).
Outbound and inbound flights should be via Istanbul.
Free accommodation is available for round-trip tickets and can be used on the outbound or return journey.
Visa fees, the cost of travel around the city, and cost of travel between the airport and hotel are borne by the passenger.
Passengers wishing to benefit from stopover free accommodation service must allow a transit time of 20 hours or more between two
international flights.
Free accommodation is only available for flights operated by Turkish Airlines. Passengers can take advantage of free accommodation
using their ticket number only if issued by Turkish Airlines stock number starting 235.
In order to benefit from stopover free accommodation service, application must be sent to FREEHOTELUK@THY.COM at least 72 hours
before the first flight. You can obtain more information in section of our website turkishairlines.com
Passengers using stopover free accommodation service cannot benefit from TourIstanbul service at the same time.
In order to benefit from stopover free accommodation service, all outbound and inbound destinations of the flight shall be included in
the 'Stopover Destinations' list. For example, the following routings: Kazan - Istanbul - Munich / Chisinau - Istanbul - Kazan, passengers
cannot benefit from free accommodation service between Kazan - Munich routes, as Chisinau is not included in the 'Stopover
Destinations' list.
Passengers without any hotel vouchers can NOT benefit from free accommodation service.
Boarding pass and hotel voucher must be presented during check-in to the hotel.
After obtaining hotel voucher for additional nights, you can benefit from the special Turkish Airlines rates by directly contacting with
the hotel.
The hotel options provided are subject to the availability of Turkish Airlines contracted hotels.
We are providing 1-night stay in a 4-Star hotel for Economy Class and 2 nights stay in a 5-Star hotel for the Business Class.
Passengers that get an involuntary ticket reissue due to a flight cancellation for operational reasons, cannot benefit from the stopover
accommodation service.
Departure and arrival of the round trip country must be the same. For example, London Heathrow – Addis Ababa – Accra - London
Heathrow. If passenger travels to Africa and returns from another city which is not part of the arrival country, the passenger would not
be able to benefit from the stopover service.
Hotel vouchers are non-changeable after once voucher is issued by system.
Free accommodation is subject to hotel availability and Turkish Airlines has the right to change terms and conditions at any time.
For more information about Turkish Airlines' Stopover service, please click here.