Mariela takes part in the Vietnam Airlines FAM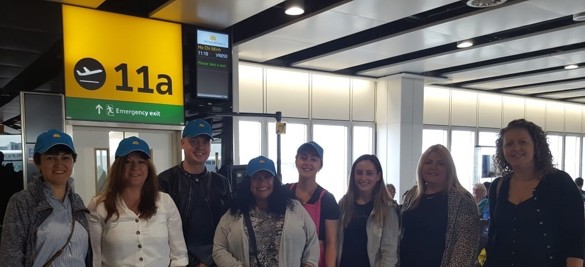 Last month, our Key Partnership Executive, Mariela was lucky enough to be invited to Vietnam Airlines 2019 FAM.
The aim was to learn about Vietnam Airlines brand and products, in order to convey the information first-hand, not only to Aviate's customers, but also to the team at Aviate. Mariela's group consisted of six Tour Operators, plus Mariela herself representing us here at Aviate.
They were taken to the beautiful city of Ho Chi Minh (commonly known as Saigon) in Vietnam and a few days later, flew with Vietnam Airlines again to Siem Reap in Cambodia - the gateway to the ruins of Angkor.
"I was thrilled to be selected for this fam trip as Vietnam and Cambodia are two of my bucket list destinations. Flying with Vietnam Airlines was an additional bonus as I hadn't flown with them before, after their fantastic service I certainly will be again!".
The group were very grateful to have been upgraded to the Premium Economy cabin, particularly as they were flying long-haul flight from London Heathrow to Ho Chi Minh (12 hours).
On arrival at the airport, they were met by the pleasant Duty Manager on shift who welcomed them to the Premium Economy check in desk in T4 at London Heathrow.
They proceeded to the gate where the new A350 aircraft sat glistening in the sun, inviting them inside it's modern and comfortable cabin. "I was ready for the exciting journey ahead!".
They were provided with a Vietnam Airlines amenity kit, a smart little bag with all the necessary items for a long-haul flight, including socks, toothbrush, toothpaste, etc. They were also offered complimentary slippers – all very much appreciated!
After an hour and a half of flying, lunch was served. A choice was provided on the Premium Economy menu including an extensive menu of Vietnamese delicacies and popular world cuisine.
The on-board entertainment was excellent with a private 10.6" screen stored on the armrest. The entertainment featured well over 30 films to watch, books to read, music to listen to and games to play - plenty to keep passengers entertained! A Skymap was also provided to keep passengers updated on the route, altitude, temperature and remaining flight time.
Something that surprised Mariela was the fact that after 9 hours of flying, the air still felt fresh and not stuffy at all. Another thing she found fascinating were the windows!
"The windows were amazing! We took off at 11.30 from Heathrow in bright sunshine. After our lunch was served, I went to the toilet, came back out and was extremely confused by the pitch-black cabin. I suddenly realised that you could dim the windows!". Mariela curiously asked the reason for dimming them on a day flight and was advised by the cabin crew that this is done to assist passengers with jetlag as the aircraft lands in Ho Chi Minh airport at 05:30 local time, which would be 11:30pm in the UK. Clever stuff!
"Overall, this experience was incredible! The products and services on board were second to none, nothing but the best from this 4* global airline. Thank you, Vietnam Airlines for inviting me on this unforgettable experience, I will most definitely be flying with you again!".