Why the Eden Roc Cap Cana is the Perfect Place for Your Clients to Stay
The Eden Roc Cap Cana is a five-star Relais & Châteaux resort nested in Punta Cana; it is the most exclusive gated beachfront community in the Dominican Republic. Surrounded by lush vegetation and turquoise waters, this location offers the perfect relaxing escape for your clients to unwind.
To assist you with matching your clients' needs with the perfect accommodation, we have listed each suite and what sets them apart, and what features your clients can expect.
Boutique Suites
Designed for complete privacy, each Boutique Suite is an oasis of tranquillity and style, each with their own swimming pool spa and relaxation area, your clients can expect a heavenly escape.
Boutique Suites include Luxury Pool Junior Suites, Luxury Pool One-Bedroom Suites, Luxury Pool Family Suites, and Two-Bedroom Family Residences, including one duplex, with private kitchen for a chef to prepare meals upon request. Whatever the size and layout, all accommodations have been decorated in vibrant tropical colours.
Luxury Pool Junior Suites
Perfect for clients that are looking for a romantic getaway.
Vibrant, airy, and spacious suites that overlook lush gardens or the magical lagoon.
Couples can enjoy a couples massage in their own personal spa area, relax under the pergola in their private courtyard, and cool down in their own private pool.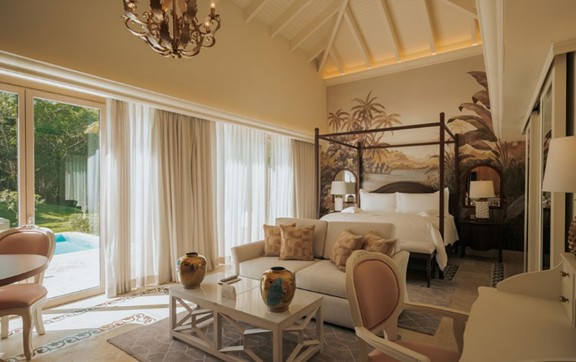 Luxury Pool One- Bedroom Suites
The Luxury Pool One-Bedroom Suites are preferred by couples traveling with a child—they accommodate three comfortably.
With exclusive use of a golf cart, guests can explore the property and then head for the Eden Roc Beach Club for some rest and relaxation by the sea.
These suites also benefit from their own private pool, exterior rain shower and private spa area.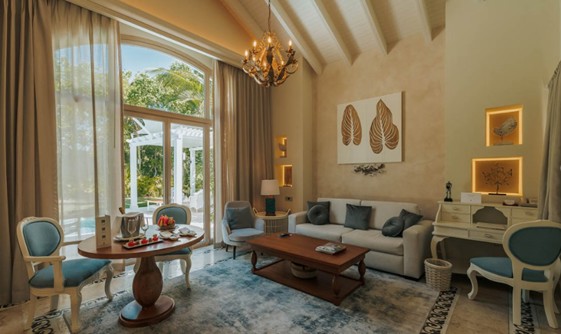 Luxury Pool Family Suites
These are extra-large suites, that would be suitable for a family of five or four (three adults and two children, younger than 12 years old).
They offer a main bedroom that links to a secondary bedroom with bunk beds with individual bathrooms and showers, as well as befitting from sofa beds in the living room.
Includes a private pool, exterior rain shower and private spa area.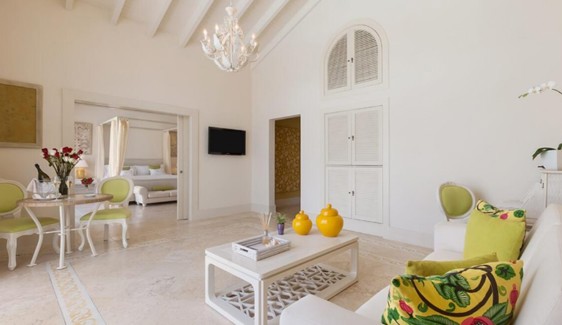 Luxury Pool Family Two-Bedroom Suite
If your clients are traveling with friends or as a family, looking for a special gathering, this is the perfect suite for them.
Theses suite features two and a half bathrooms, a private pool, and a spacious living room as well as a small kitchenette.
Guests can enjoy cocktails by the private pool or venture out for a round of golf.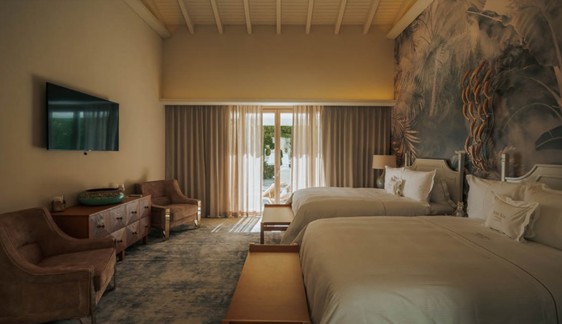 Beachfront Suites
If being closest to the beach is on your clients' priority list, then opt for the Beachfront. With stunning ocean views from the terraces and balconies, the ambience of the 26 Beachfront Suites exudes the most exclusive experience.
Whatever the size and layout, all accommodations have been inspired by the beauty of the ocean, incorporate light and rustic colours by natural woods, elegant chic fabrics and hand selected Dominican art and sculptures. The Beachfront Suites include the One-Bedroom Suites and the Two-Bedroom Suites, which are located close by to the Eden Roc Beach Club.
Beachfront One Bedroom Suite
Your clients have the choice of picking if they would like a terrace or balcony, whatever they pick you can ensure they will have stunning views of the Caribbean Sea.
The Beachfront Suites offer a dynamic, light-filled Beach Front Apartment that radiates a sense of calm, perfect for guests to unwind.
One main feature of theses suites are their Coral stone bathtubs with marble Jacuzzis.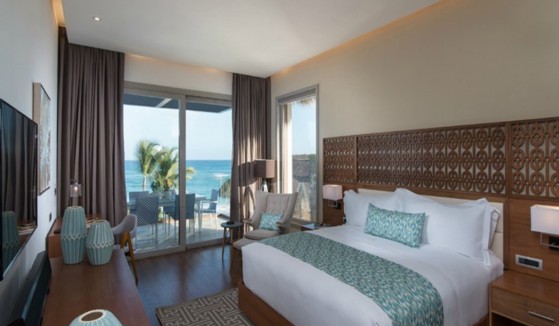 Beachfront Two Bedroom Suites
Like the beachfront one-bedroom suite, this suite offers a dynamic and light-filled apartment, that gives a radiant sense of calm providing your clients with an exclusive experience.
The main feature apart from this suite is that it offers an extra bedroom to accommodate for extra guests.
Your clients can enjoy cocktails on the terraces/balconies enjoying the stunning views of the turquoise Caribbean Sea.
We hope that this blog has been useful for you to pick the best accommodation available for your clients at the Eden Roc Cap Cana, Dominican Republic.
If you want to learn more about the accommodation options offered at Eden Roc, view here.
If you're a tour operator and would like to add Eden Roc Cap Cana to your portfolio, contact Aviate Additions by completing this short form. If you're already a partner and ready to make a booking to this exquisite resort, call Aviate Additions' dedicated team on 0151 350 1140 or email reservations@aviateadditions.com.