Tailor your booking experience with InfiniteAPI
---
Are you tired of navigating multiple systems to book flights?
InfiniteAPI feeds all of Aviate's best nett fare content directly into your own back-office system or customer website.

Do you want access to the best range of airfares with up-to-date pricing?
InfiniteAPI combines all available airfares into a single source and displays them with real-time pricing and availability.

Is improving the productivity of your reservations team important to you?
InfiniteAPI has a range of customisable features and automations to streamline your processes and increase efficiency.
Our fares. Your systems. Endless possibilities.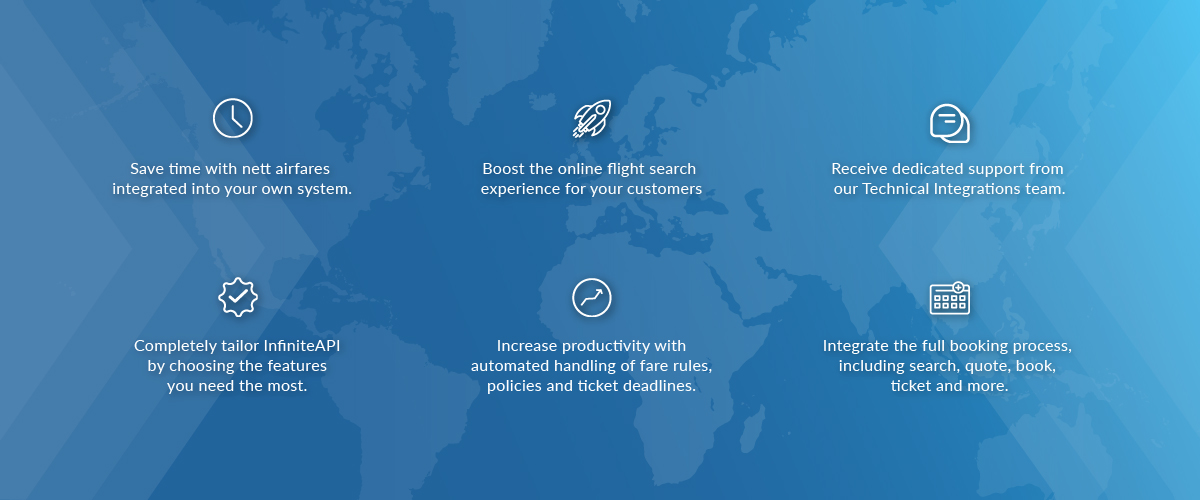 You'll automatically have access to our essential APIs that allow you to:
Communicate with us
Search flights
Quote flights
Book flights
Then we'll bring together our optional features to create your ideal user journey.
Upsell fares
Find, sync & retrieve bookings
Get fare rules, flight information and Advanced Passenger Information (APIS)
Apply transaction charge
Make Payments
Ticket bookings
Input frequent flyer & service requests
Why us?
InfiniteAPI brings together all available airfares from Aviate, allowing you to hold an unrivalled variety of flights with no deposits, a dedicated customer support for each - including free out of hours assistance!
Airfares from

 

Aviate
Aviate is the flight provider of choice for 1,200+ tour operators across the UK. Aviate's Flights product offers a breadth of content including:
The best Inclusive Tour fares for over 75 of the world's leading airlines
Published, Seat Only, Cruise and Regional Flying fares
Aviate powers Virgin Atlantic Flightstore, so naturally you'll access the best fares for Virgin Atlantic and Delta Air Lines too
Apply here